Made in the Midlands members Lasershape held a best practice event on 26th September, where over 50 Made members gathered to learn best practice, network and learn more about the company.
Based in Nottinghamshire, Lasershape is one of the fastest-growing and highly efficient fabrication companies in the UK. Established in 1988, the company offers services from profiling and forming to powder coating their products. Lasershape is known for its good service and fast turn around, receiving around 1,500 quotes and 10,000 drawings a month. To achieve this swift turn around and several inquiries, the company runs 24/7 closing only for a few days a year at Christmas time.
The morning began with Made in members gathering at the Villiage hotel club reception, which is close to the Lasershape headquarters. They were greeted by refreshments and breakfast and soon began networking as the room started to fill.
At around 10 am, Made members moved into a meeting room for a presentation by leading company Lasershape. This segment began with members introducing themselves and their companies, before getting on with the presentation. Managing Director of Laser shape Tim Leam then took to the stage to tell everyone more about the company, their recent key investments and the different services they offer.
Next, attendees had the opportunity to have a look around Lasershape headquarters with a guided tour. The tour began with an introduction to the office staff, who deal with CAD drawings for the company to produce the customer's requested products. As Lasershape runs 24/7 they have six fiber lasers to produce a high quantity of products. Members were able to see the fiber lasers in motion, in the cutting and forming shop, along with with the company's break presses that mold certain components. One of the fiber lasers was a new investment, purchased only eight weeks ago, the six-kilowatt Bystronic laser.
Continuing the tour around the company's premises, members were introduced to Lasershape's new powder coating paint station. This allows the company to achieve this process in house, rather than outsourcing to another company, meeting the customer's needs to a further degree. The new paint station is one of Lasershape's biggest investments in the last two years.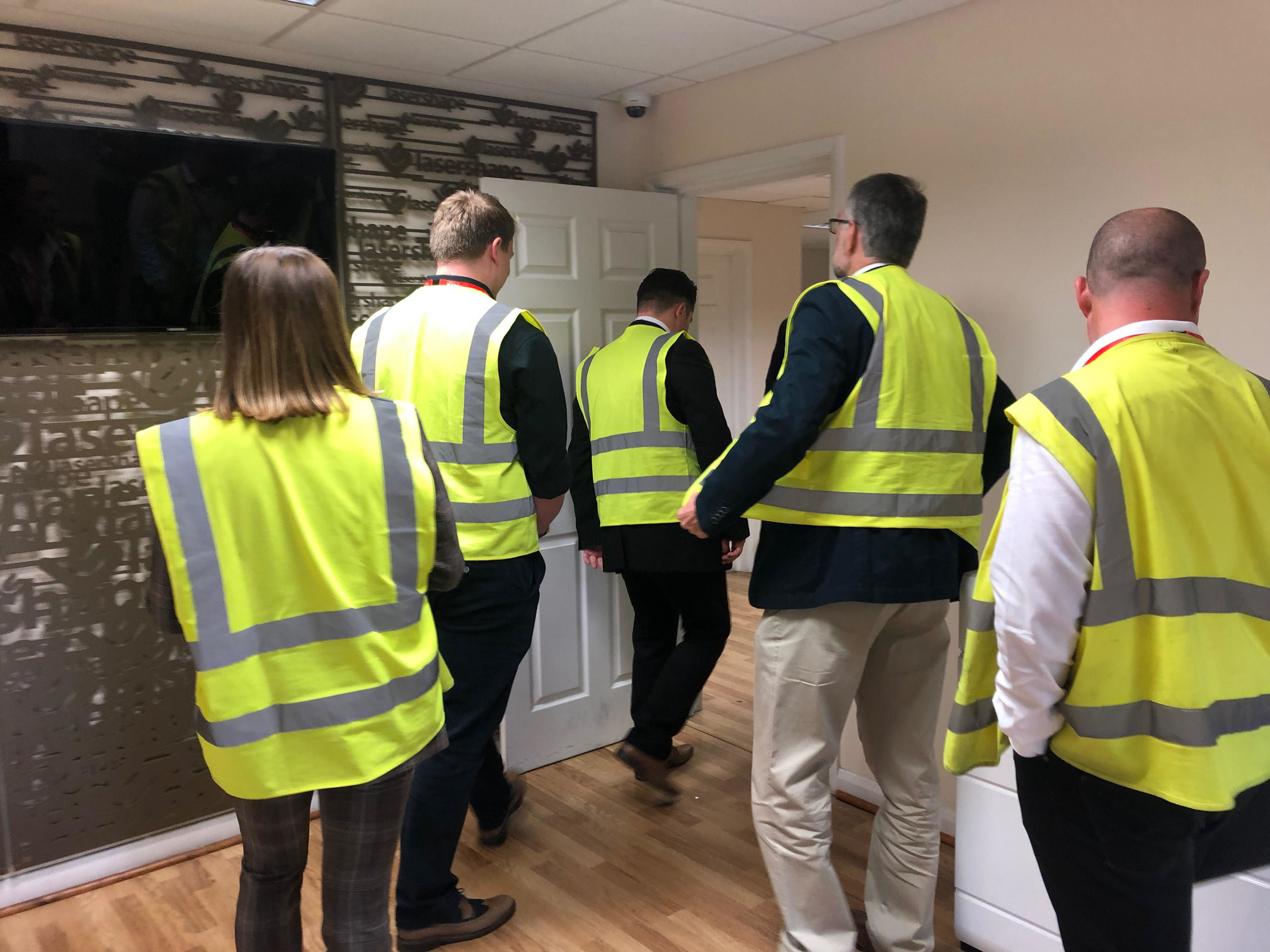 To stay environmentally friendly and yet meet the customer's high expectations of a quick turn around, Lasershape is dedicated to only using fiber lasers to cut CO2 emissions otherwise caused by CO2 lasers. They are also currently looking at going paperless in the workplace and considering new processes to recycle certain waste.
After learning more about Lasershape and seeing first hand what the company produces. Members gathered again for more networking at the Village Hotel Club. Managing director Tim Leam reflected on the day's events by telling us what he hopes members took away from their Best Practice Event:
"Today we wanted to showcase total capability, which is to make metal products from design case through to the finished painted product. After speaking with some of the attendees, the day was well received and everyone seemed to enjoy it"