This year Derby-based and family ran Steel Stockholders and Processor manufacturer, Eggleston Steel is celebrating their 210th anniversary, having first been established back in 1809.
To celebrate this landmark birthday, we sat down with the two generations currently running the business including Father Richard Hewitt, who became the Managing Director in 1999, and now his two children, Jacob Hewitt, who joined in 2014 within the profile department, and Rebecca, who joined in 2017 as an HR advisor, to take a look back at the history of this family ran business.
Over the course of the 210 years, the company, which started in a small building located in London Road, has kept founding success, resulting in an upgrade of premises 5 times. So, how does a company that started its delivery by horse and cart, move to operate a fleet of five, 26-Tonne bespoke lorries?
A look back at over two centuries of business…
Originally established as an Ironmongers named Joseph E. Hunt, the Eggleston family acquired the business in the late 1800s. Fast-forward to 1950, and the then owner, Walter Eggleston passed-away, leaving the business to Joseph Eggleston Burrows. 27 years later, in 1977 after the passing of Joseph, his nephew-in-law Anthony Hewitt took over as both Chairman and Managing Director.
22-years later, at the end of the last century, in 1999, Eggleston Steel saw the appointment of Anthony's son, Richard Hewitt as the Managing Director, whilst Anthony retained the role of chairman.
Then 3-years into Richard's management of the business, in 2003, and the company saw a massive expansion program. Firstly, moving into its current premises of Centurion Way in Derby, and seeing a 180% increase in staff levels from 20 to 56.
However, when the 2009 global recession hit, despite many businesses having to retract their portfolios, Eggleston Steel managed to protect the jobs of its employee's thanks to, in the previous year, 2008, expanding their services to now also include plate and profiling services which took the form of high-definition plasma cutter.
With the company seeing continued success in the profile department, the company then grew again in 2011 by acquiring the companies first laser machine, which brought a cutting capacity of up to 4 meters by 2 matters at a thickness of 25 mm in mild steel.
Back in the present year of 2019, and as the company celebrates 210 years in business, Eggleston Steel continues to invest in more hardware having purchased a Fibre laser, a 220-Tonne 4-Metre press brake, with a 6mm think capacity guillotine.
And although the nation is in the middle of Brexit negotiations, and investment in the industry seems uncertain, Eggleston Steel decided that the best supplier for the machinery that they purchased was fellow Made in the Midlands member, LVD Group.
Looking towards the future…
Despite 210 years in business, and countless investments it's not always been plain sailing for the Hewitt family. The family has known 3 recessions throughout their history, two in the 1980s and the most recent being the 2008 Global Financial Crisis.
But beyond the global economy, the family also spoke about a skill shortage, and how finding skilled employees has proven to be a difficult issue. With unemployment being at historically low levels, which even Eggleston Steel says is great, it does have the knock-on effect that there are not as many skilled workers looking for new roles that fit into the profile of Eggleston Steel.
But apart from looking at the future, we asked Richard Hewitt how his vision has changed since he took over from his father in 1999. He said:
"When I took over the company was solely a steel stockholder offering a sawn & guillotine service. We are now predominantly a processing centre offering a one-stop-shop for standard sections to intricately cut profile shapes. We have changed to meet customer demand and expectations. When my father, Anthony Hewitt, was Managing Director we stocked 400 tonnes, we now stock 1500 tonnes."
But in the day-and-age of globalisation and foreign investment, what does it mean for a company to remain within a family for multiple generations?
We are a family...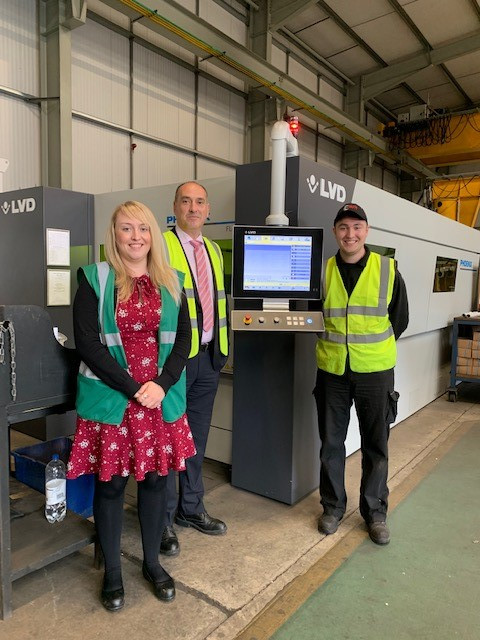 I asked the family, what does it mean to have the company remain within the family? The grandfather Anthony Hewitt expressed his delight at seeing his family continue to follow the family business, saying:
"I am delighted that my Grandchildren, Rebecca and Jacob have recently started working in the Family Business which means the company may have a Fifth Generation in the future."
His son, Richard Hewitt much like his father, spoke of his pride at seeing his children get involved in the company. He said:
"When my dad passed on the role of Managing Director I can remember feeling the pressure of continuing the company's success whilst other companies within our industry and customer base were closing down due to commercial pressures.
As a small family-owned business we have always had to find ways to add value to our products & services. Moving forward I hope to pass on my role to Rebecca & Jacob to take us past 250 years of trading. Between them, they are the company's future."
Now with both of Richard's children invested in the business, what do they think about the future? His daughter, Becky Hewitt, said that while she never intended to join the family business, she has since gained a sense of pride from being able to continue the family legacy, saying:
"It was never part of my plan to join the family business but I have been here for 2 years and I enjoy it. We are a close family unit and because of this, we work well together.
There is a pride of being able to continue the legacy of a 210-year-old family-owned business and I am looking forward to pushing the business on in a new technological age with industry 4.0 and seeing the success this will bring."
Meanwhile, his son, Jacob Hewitt said:
"One of my life aspirations was to work for the family business and continue as the fifth generation to work for the company. I joined the business 5 years ago and have come to see my colleagues as extended family members."
To finish our conversation with Eggleston, I asked the family what they think the biggest challenges will be in the coming decades, and in response, they raise two concerns: Remaining competitive and addressing the skills shortage.
"The two biggest challenges we're going to face is remaining competitive within the industry and ensuring we provide a reliable and efficient service.
Likewise, as mentioned earlier, the skills shortage in STEM subjects. With an ageing workforce and lack of school leavers following in their parent's footsteps and entering into a construction, engineering or fabrication vocations."
Eggleston Steel stocks, processes and supplies a wide range of both mild steels, and non-ferrous metals. Their main customer base is within a 50-Mile radius of their Derby office, and if you're in the fabrication, engineering, construction or DIY sectors, and you need their help, you can contact them via their Made in the Midlands Microsite or email, [email protected]el.co.uk or call 01332 341536