Our Story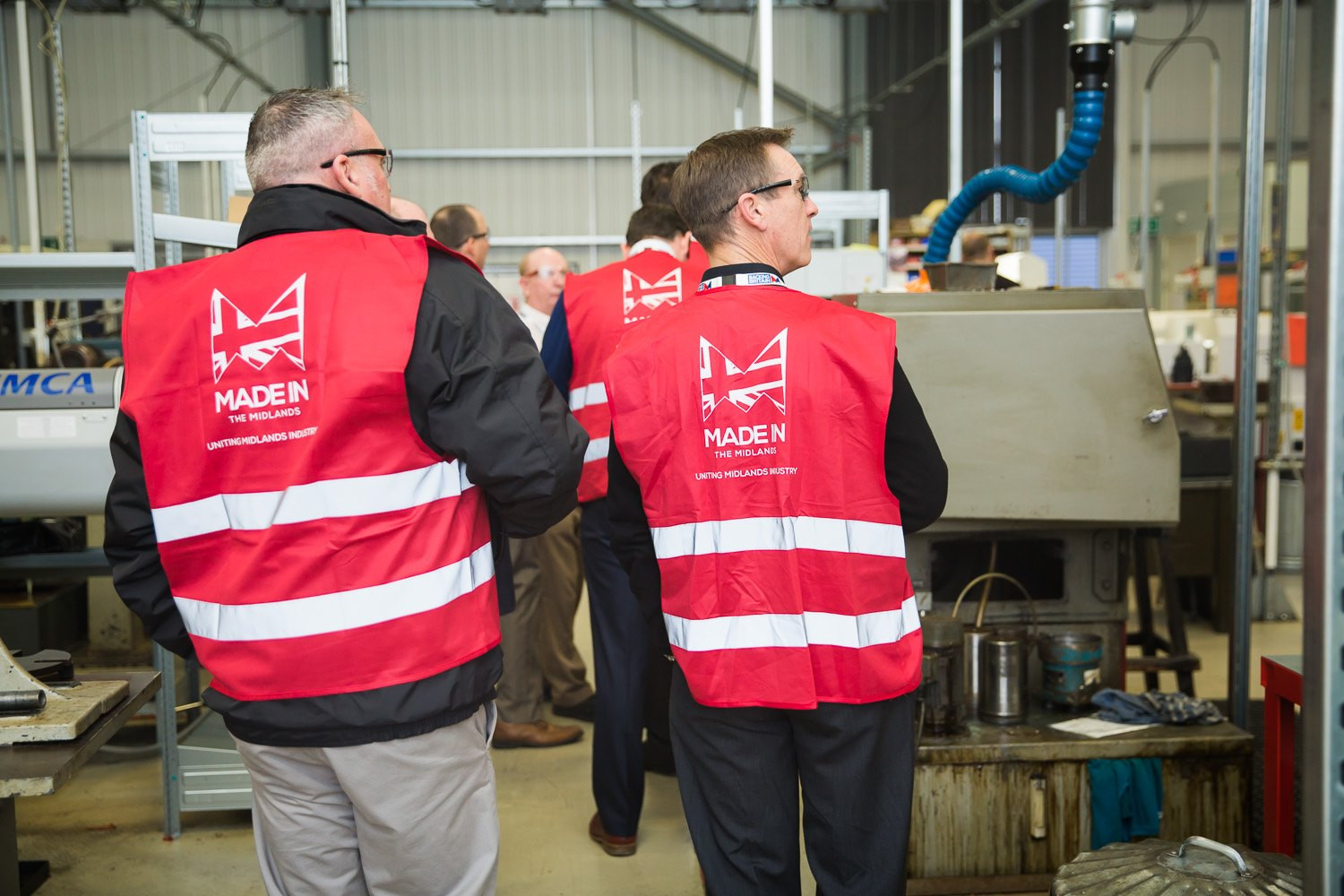 Made in the Midlands, part of the Made in Group, exists to challenge the erosion of British industry. This movement, along with Made in Yorkshire and Made in London, is based on a pledge signed by manufacturers to open a channel of communication with local firms, take on apprentices and export to new markets.
Launched in 2009, Made in Group is a private manufacturing network for the UK, which now contains 600 UK manufacturers ranging from the likes of Portakabin, Schneider Electric, Jaguar Land Rover, Liberty, Rocol, Moog, Mazak, Siemens, PPG, etc.
In 2017 Made in Yorkshire merged with trade show Manufactured Yorkshire to create a dedicated membership group for Yorkshire's manufacturing base.
Predominantly operating as a public affairs and news hub, Made in London is the influencer arm of the Made in Group, connecting core manufacturing regions of the UK to policy makers, financiers and the media thereby enabling the group to lobby more effectively on their behalf.
Today, Made in Group are the fastest growing membership group in the UK with more than 500 members. Our aim is to promote, inspire and share best practice throughout the UK manufacturing industry.
Our Credentials
Made in Group works with some of the largest OEMs and tier-one suppliers and many of the Midlands and Yorkshire SME base.
We sit on the All-Party Parliamentary Manufacturing Group which aims to give politicians a rounded view from industry.
In 2017 we launched a campaign to make UK industry more inclusive, working alongside Baroness Burt of Solihull the former Equalities shadow minister we developed a series of workshops around the themes of diversity in the workplace and mental health first aid, it is well documented that inclusive employers are up to 22% more productive.
With 5 membership packages ranging from "Digital" to "Platinum" - we provide a wide array of services to suit all forward-thinking Midlands manufacturing and engineering firms. From SMEs to OEMs, tier-one suppliers and global industry leaders - you can find the benefits to suit your company HERE.
Digital Services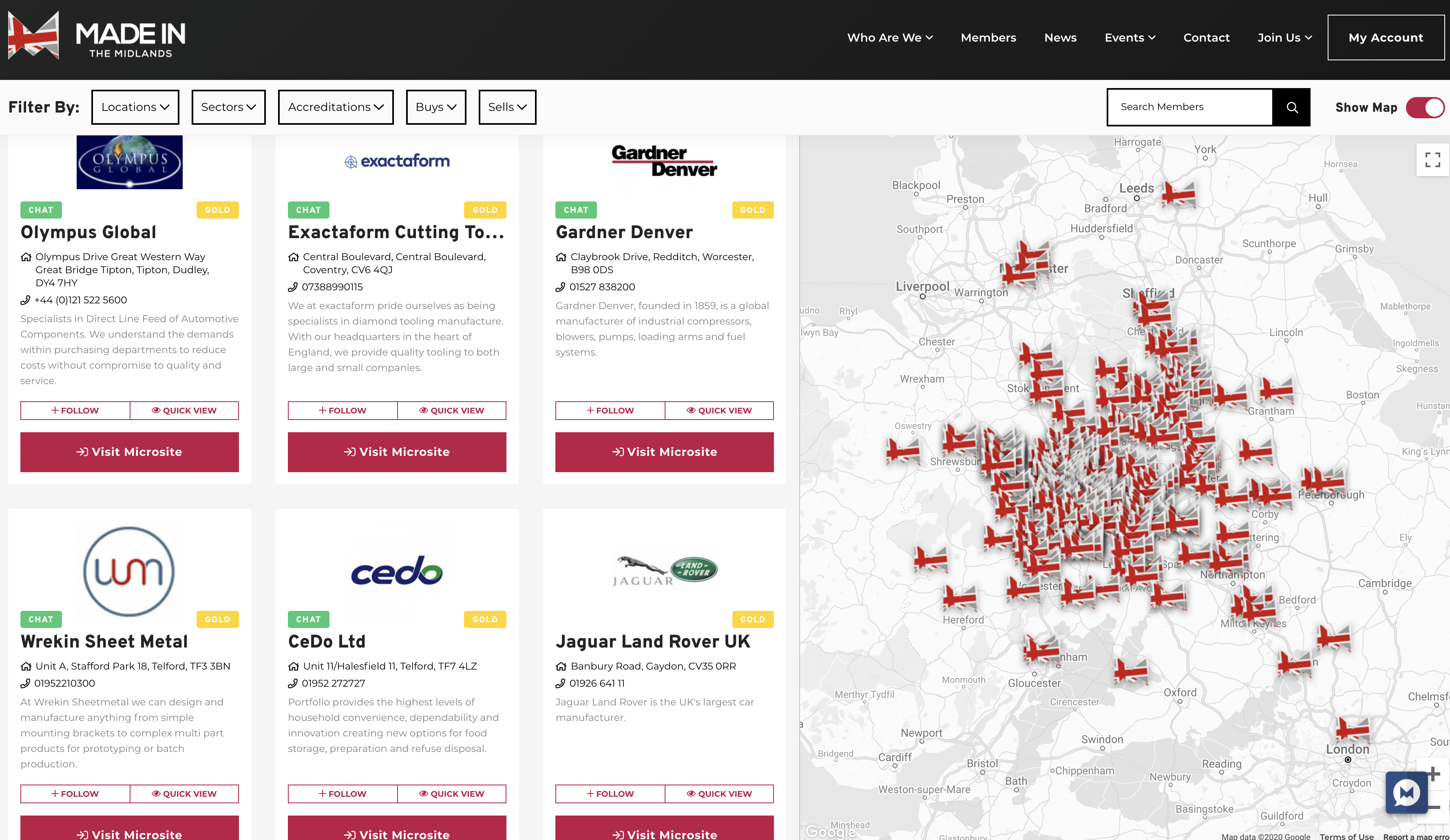 A membership with Made in the Midlands is the most efficient way to raise your online profile, share company news and nurture your reputation within the manufacturing community.
Alongside featuring in the no. 1 ranked Directory Listing for "Midlands Manufacturing" on Google, members also receive a bespoke HTTPS secure microsite, a multi-domain SEO strategy which compliments their current operations, Live Chat functionality for seamless communication with customers and a high-traffic medium (the "News" section) for their content marketing and articles.
You will be given the tools to make the most of this platform through one-to-one training and frequent webinars.
Events and Networking
Made in Group are renowned throughout the UK manufacturing and engineering community for hosting leading virtual and physical events. From sharing best practice to making business-changing connections with local industry leaders and networking and social events - we host a format for every occasion.
Physical Events
Breakfast Mornings: Delicious food, state-of-the art facilities and fantastic company amongst UK industry leaders; these events are hosted by our Gold members, in which you will be given the opportunity to take a factory tour and share best practice, before networking amongst 50+ others.
Social Events: Made in Group is set apart to other groups by the strong bonds which exist throughout companies in the membership - with the likes of "Summer Drinks", annual Christmas parties and more facilitating these genuine friendships to be built.
Virtual Events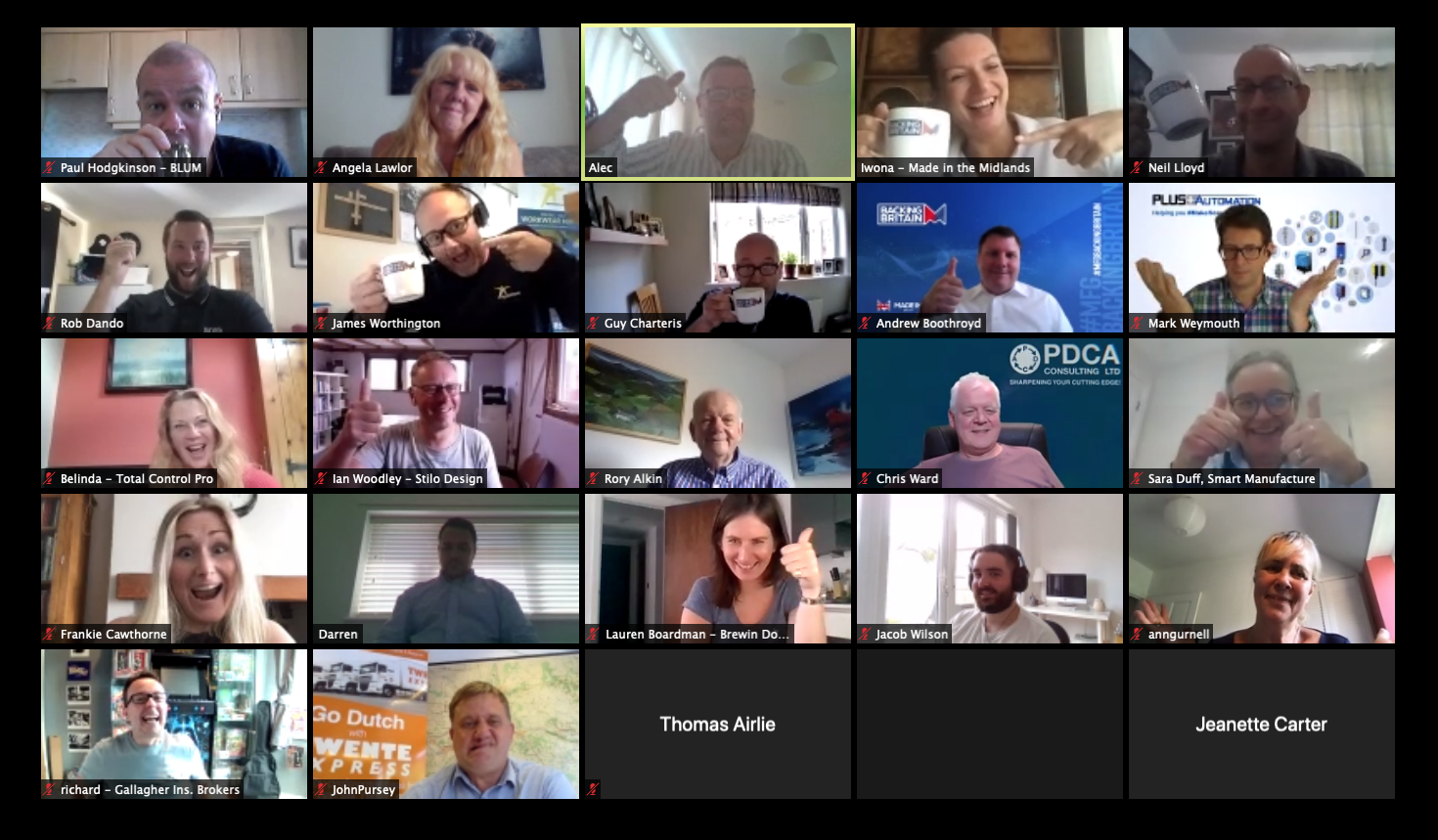 Virtual Drinks: A "speed networking" type format - these social events offer you the chance to build relationships with business leaders you may have never come into contact with, whilst having a lot of laughs along the way.
Virtual Breakfast Mornings: A digitalised version of our long-term member favourite events, these sessions allow for a member to host a presentation before all attendees give a 60-second pitch and then go off into smaller "breakout rooms" to network and share best practice.
Keynote Speeches: Covering a variety of contemporary topics and often industry-specific, these give an exclusive insight into a topic featuring an expert guest speaker (e.g. former Aston Martin CEO Andy Palmer).
Roundtable Discussions (Mastermind): Important conversations, informed debates and a pinch of networking - featuring handpicked experts on the topic of choice (Industry 4.0, Digital Marketing, Green Manufacturing, etc.)
You can find out more about the virtual events we hold by clicking HERE.
Annual Exhibition
Made in the Midlands understand more than anyone how important exhibitions are to the manufacturing and engineering industry. Our annual exhibition gives members and other industry-leading professionals a chance to network, share best practice and make business-changing connections.
Ricoh Arena and Elland Road played host to thousands of Midlands and Yorkshire (respectively) industry leaders who have been meeting for Made exhibitions for the last decade.
The advent of social distancing which 2020 brought with it meant that this year - in an unwavering desire to keep UK industry united - Made in the Midlands invested in creating their own virtual exhibition, with all the benefits of the physical alternative. Find out more about Backing Britain HERE.
This new, state-of-the-art medium allowed thousands of companies, thought-leaders and other business professionals to connect - who may have never met under "normal" circumstances. Featuring over 30 events in a two week period, 200+ exhibitors and over 7000 attendees - Backing Britain Live 2020 was an entirely new concept in terms of attending an exhibition. With an ethos based around continually innovating, we look forward to seeing what improved expo product we can bring to our members in 2021.